I wore this last night for winding down from a weekend of work and dinner with the fam. The dress is a vintage number from etsy, bought during the hight of my maxi obsession which has petered out a little.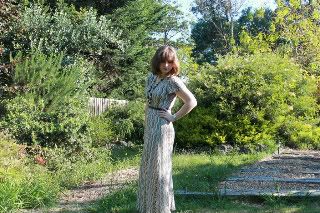 dress: vintage via etsy, belt: another dress, necklace: diva
I have three - count them three - days of in a row so I splashed out and painted my nails for the first time in over a year. I have - wait for it - four days off in a row next week so I may have to pick up another colour.
I've had a spasm of inspiration from
Elizabeth from Delightfully Tacky's
blog post and general trawling of the internet and have decided I want to make/drastically alter more of my own clothes, especially dresses. I'll let you know how that pans out as I had an argument with my mother's sewing machine trying to put together my embroidered pillow case.
wishiwereaudrey xoxo