after putting up a good fight i have finally succumbed to the cold that has been floating around. so the initial plan for the day was to mope around watching movies and recooperating in my comfy winter clothes.
jumper - op shops, tights - from mother dear, bag - op shop
however after meeting up for coffee with i friend i wound up going to see inception. amazing movie with a killer cast. i still swoon over leonardo dicaprio and ellen page is my idol. add the kid from 3rd rock from the sun whose name escapes me and i'm sold. i highly recommend.
i have done my first major alteration under the advice of the 'fashion doctors' from alice euphemia and here is the result. i am quite pleased.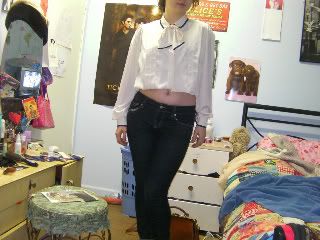 thoughts?
ciao
wishiwereaudrey xoxo