I wore this yesterday to go to the movies with my sister - we saw The Muppets and LOVED it. I don't think I've ever actually been to a BBQ on Australia day, though I'm not what you'd call a typical Aussie.
jacket: Levis, top: vintage, shorts: all about eve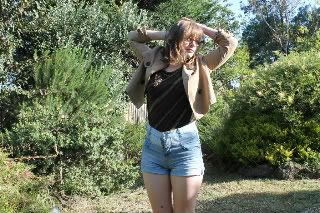 Did I mention I love this jacket. It's turning into a bit of a love affair and is adding a certain machoness(if that's a word) to my style.
On a side note, I miss my goes-with-anything-and-everything necklace that I lost on NYE.
wishiwereaudrey xoxo