I love this dress and wear it a lot, though I don't believe I've posted on it before. I tend to gravitate towards this style of dress. Cinched a little above the waist, usually with sleeves. I find them really versatile - just as cute with tights, boots and a jacket or on their own as a summer dress.
dress: luvalot, jacket: dangerfield,
belt: hunter gatherer, boots: rivers
Belts are my go-to accessory at the moment. Especially this one. The elastic means it clinches an nicely and the clasp detail is just so darn cute!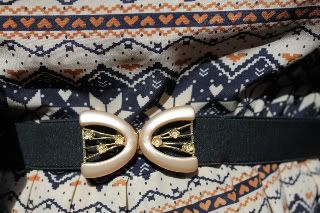 wishiwereaudrey xoxo