Yesterday was drizzly, cold and a little miserable. I loved it. I wore tights and cooked soup for dinner. It was amazing. Unfortunately this morning I woke to rays of sun poking through the blinds Reece recently installed. Shattering. It's not that I hate nice weather. I'm just well and truly ready for Autumn and cold and layers and extra blankets.
dress: vintage via Retro Star, belt: lost the tag via a
local boutique
, blazer: Maddison Square via a
local boutique
, sunnies: prescription lens Bill Bass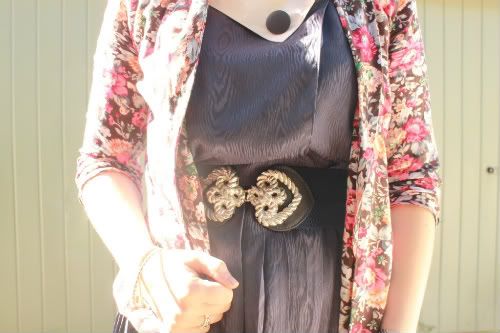 I'm enjoying the mid semester break from uni, though I'm still working through assignments and readings and starting exam study. This dress will always be a favourite, though I tried to mix it up with an interesting belt and some colour.
Oh and I just bought my ticket to
Fashionopolis
! Who else will be there? I have a feeling I will be so overcome with seeing all those amazing fashion bloggers in one place I won't be able to take in any of the talks.
Alice xx