I have a theory that the more apprehensive you are about an outfit as you put it together, the better it will turn out in the end. I always struggle with this top I bought a good year or more ago, but I think I've finally gotten it right. I'm going to call it casual-classic-contemprary-edwardian style, the edwardian comes from the insanely puffy sleeves.
top: vintage via op shop, jeans: jay jays,
belt: via another dress, pussy bow: via another dress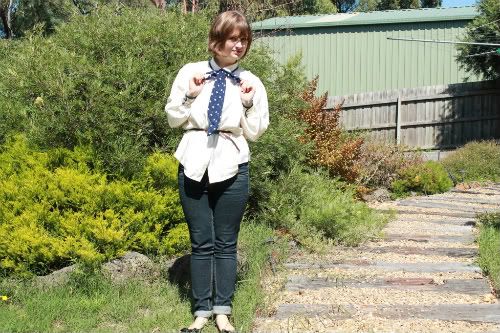 Any attempt I make at cute-smirky-smiles always seems to translate to uncomfortable grimaces in the actual photo. The option of smile coaching not within my reach, I think it's a burden I shall have to bear.
And what's with these sweet, sunny Autumn days? My thoughts will no doubt change in a few months, but I'm dying for proper cold drizzly weather. I just want to wear ALL the knits ALL the time.
Alice xx