I bought this material from spotlight a while back and, in the midst of procrastinating about uni work, I whipped up an apron.
I have been eyeing off some darling aprons in online and physical stores alike. Brightly coloured and beautifully structured with frills and pockets they are enough to make you cry. Alas, my sewing skill are not what you would call fully developed, so I opted for a simpler fashion.
Still, I am as proud as punch with my efforts and am looking forward to uni holidays and having time to bring to life the craft projects on my to do list.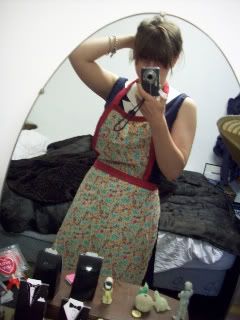 ciao
wishiwereaudrey xoxo