Another in the string of sunny days we have had lately and another exam crossed off the list for me. Just one tomorrow morning, a practical next week and then my placement to go. I'm looking forward to not having any pre-reading and I already have a list as long as my arm of things I want to get done over the break from uni.
This is the other dress I bought the other day, along with the belt. I can now give my
wide elastic belt
a well earned rest as this belt is similarly amazing. I'll get some closer pictures soon.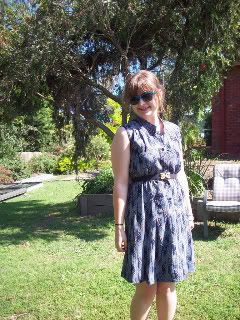 dress: retrostar, belt: hunter gatherer, sunglasses: my friend brought me from Bali
Today's study fuel is banana with pot et strawberry yoghurt. Yummy! I'm probably a little too excited that bananas are affordable again (after prices soared with the flooding earlier in the year). But I do love their yellow goodness.
ciao
wishiwereaudrey xoxo